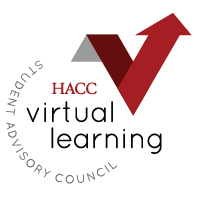 Who We Are...
The VLSAC is the student voice and virtual student government comprised of registered HACC online students that endeavor to be a group of students who consistently come together in an online meeting space to discuss and champion the wants, needs and goals of the online student body. We work to improve the online educational environment for all virtual learners at HACC through planning community building activities, advising on the use of student activity funds, representing virtual students in shared governance decisions, and partnering with administration and faculty to plan and implement initiatives designed to improve the virtual student experience. 
 
When and How Do We Meet...
Meetings are typically online and many students stay connected through the VLSAC Facebook page and Brightspace by D2L.


Why Join...
As a virtual student, does it sometimes feel as though you are not a part of student life on campus?  By joining the VLSAC you are connecting to the larger online learning student body...altogether we create our own virtual community!


How Do You Join...
Two types of membership exist with VLSAC they are Participating Member and Executive Committee Member.
Joining? Questions? Ideas? Just want to connect with a student who is already a member?  Contact Jazmin Simpson, student success manager at vlsac@hacc.edu or 717-801-3327.
 
VLSAC Initiatives
The VLSAC has developed several initiatives for online students. View the program(s) provided below:
VLSAC EC (Executive Council) Profiles
Get to know our VLSAC EC members.
 
Mission Statement of the Virtual Learning Student Advisory Council (VLSAC)
The VLSAC is comprised of students who work to improve the online educational experience for all virtual learners, represent all students from HACC's Virtual Learning organization and champion their collective interests. The organization's goals are accomplished through frequent communication, community building activities, advising on student activity fee allocation, cooperative implementation of initiatives designed to improve online learning, and giving virtual students a voice in governing decisions of the college.