Apply to HACC and Receive Free Lunch and T-Shirt!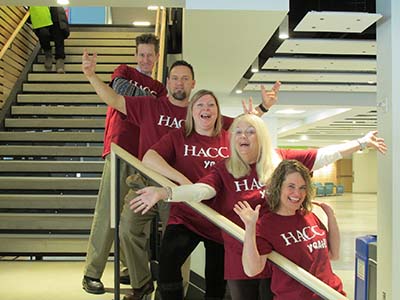 Who can pass up a FREE lunch and T-shirt? We can't!
Our admissions counselors at HACC, Central Pennsylvania's Community College, invite you to come see why we are YOUR community college. Visit the Welcome Center at any of our five campuses from 8 a.m.-4:30 p.m. on any of these dates.
March 19, 2019
April 23, 2019
When you visit us, we will:
Meet with you to discuss your goals
Answer your questions
Explain your financial aid options
Help you complete our free online application
Give you a FREE lunch on campus AND a #HACCyeah T-shirt (only if you apply)
When you arrive to the campus, please visit the Welcome Center and you will be greeted by our staff. No appointments are necessary!
Past attendees have told us: 
"Ann was excellent with helping to create a schedule."
"Beth was amazing and very helpful!"
"Everything was perfect."
With approximately 100 programs offered across five campuses, we can help you prepare to enter the workforce in a year or less, provide training on state-of-the-art technologies or help you save thousands of dollars if you transfer credits to a four-year school. We know HACC has something exciting for you! Please contact your campus admissions counselor with any questions.
Persons with disabilities who need additional accommodations are encouraged to contact a campus Welcome Center at 800-ABC-HACC.
Ultimately YOURS.