May Commencement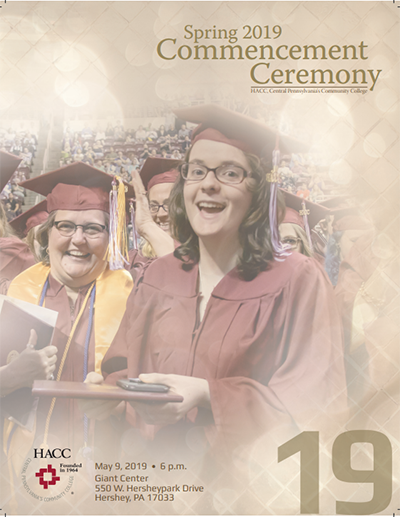 View our spring 2019 Commencement
ceremony program book (pdf)
Learn about May Commencement.
Watch live streaming of Commencement!


Where and when is the Spring 2019 Commencement Ceremony?
HACC will hold the Spring 2019 Commencement Ceremony on Thursday, May 9, 2019 at 6 p.m. at the Giant Center, Hershey, PA.
Can I participate in the Spring Commencement Ceremony?
HACC invites you to participate in the May Commencement Ceremony if you are eligible to graduate in the Spring or Summer terms.
Will HACC include my name in the commencement program?
HACC will include your name in the program if you:
Submit your graduation application by March 1
Potentially qualify for graduation
When will I get my diploma?
HACC mails degrees, certificates and diplomas approximately four weeks after final certification.
Where can I get a cap and gown?
You can buy your cap and gown at each campus bookstore. Refer to your specific campus bookstore for hours of operation.
Are there graduation photos?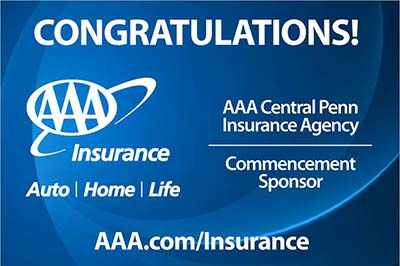 Professional photography services will be available before and during the ceremony. You can get your picture taken:
In the concourse at the Giant Center.
As you receive your Diploma cover
You are under no obligation to purchase any photos. Please allow approximately one week for GradImages to finalize photos. Photos can be viewed on GradImages website after May 16, 2019.
Informal photos are available on HACC's Flickr page.

Can I invite guests?
You may invite as many guests as you wish to the ceremony. Guests should report directly to the Giant Center guest seating.
Where should we park?
You and guests must park in designated parking areas.
Handicapped parking is available in the front of the Giant Center for vehicles with handicap plates or placards. If you do not have a handicap plate or placard, you may drop off a person with limited mobility closer to the main entrance before parking in the general parking lot.
 
Where should I report for the ceremony?
Enter the main entrance at the Giant Center. Follow posted signs.
Put on your robe, complete a name card and report to your assigned seat.
Do not bring purses, cameras or other valuables.
What if I need special accommodations?
If you are participating in the ceremony and have a disability, call the Office of Student Affairs at 717-736-4145 or 717-736-4141 by April 25, 2019.
Special accommodations for guests:
HACC uses closed captioning during the ceremony to assist people with hearing impairments. Specially designated wheelchair sections are shown on the Giant Center seating chart. One companion seat is allotted per guest in a wheelchair.

Where can I get a commencement program and other mementos?
A commencement program will be on your seat.
Flowers and commencement mementos will be for sale in the concourse area.

What is the ceremony order?
The procession: Candidates will lead the graduation procession. Faculty, the trustees and platform guests follow them. Candidates will form a double line by campus for the procession and recession. Candidates will follow the Student Marshals during the ceremony.
During the ceremony: Candidates should pay close attention to Dr. Ski, President of the College, for instructions during the entire ceremony. Candidates need to remain seated during the ceremony.
The recessional: The students will lead the recessional. Faculty, Trustees and Platform guests will follow. The ceremony should last approximately two hours. HACC expects all candidates to remain and participate in the entire ceremony.
 
What happens after graduation? 
The Alumni Association welcomes you to join them. You can purchase an Alumni card for $25 annually. Alumni Association members are always welcome on campus. You can use designated facilities including tennis courts, pool and library. Visit the Alumni table in the concourse area for more information.
Visit Career Services for assistance with resumes, interview skills and your job search.
Talk to a transfer counselor for questions or assistance with your next steps.
How can I share my Commencement excitement on social media?
Share YOUR Photos and Videos on Social Media.
Are you on social media? Share your fun photos and videos with HACC using #HACCproud and tag us:
Twitter: @HACC_info
Facebook: HACC, Central Pennsylvania's Community College
Instagram: @hacc_edu
Share a Thank You Message to YOUR Loved Ones.
Thank those who helped you reach your educational goals!
Share the WHY Behind YOUR Cap.
Share your creative graduation cap designs with HACC.
Get a FREE FUN Photo Taken in the Photo Prop Area.
Prior to the start of Commencement, find the fun photo prop area located near the Club Lounge in the Giant Center. Make fun memories with your friends using our class of 2019 props!